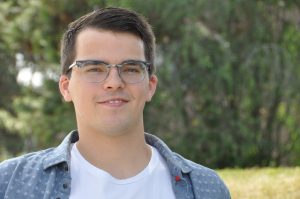 Gabriel Dix was a much loved, admired and respected member of the School. He was a graduate of both the Bachelor of Human Kinetics and the Masters of Health and Exercise Sciences. Gabriel will be missed immensely, but his influence will remain, and his memory will be cherished amongst his friends and colleagues here at UBC Okanagan.
On behalf of Gabriel's family, we extend an invitation to join a celebration of Gabriel's life.
Celebration of Life Service
Gabriel Dix
July 31, 2021
10 -11 a.m.
The Courtyard,
University of British Columbia, Okanagan Campus
3333 University Way
Kelowna, BC V1V 1V7
Please share this invitation with those in our community who you think would like to join.
The family welcomes a contribution to a scholarship which is currently being established as an expression of sympathy instead of flowers.
give.ubc.ca/memorial/gabriel-dix