Bachelor of Human Kinetics alum receives authorship from undergraduate research experience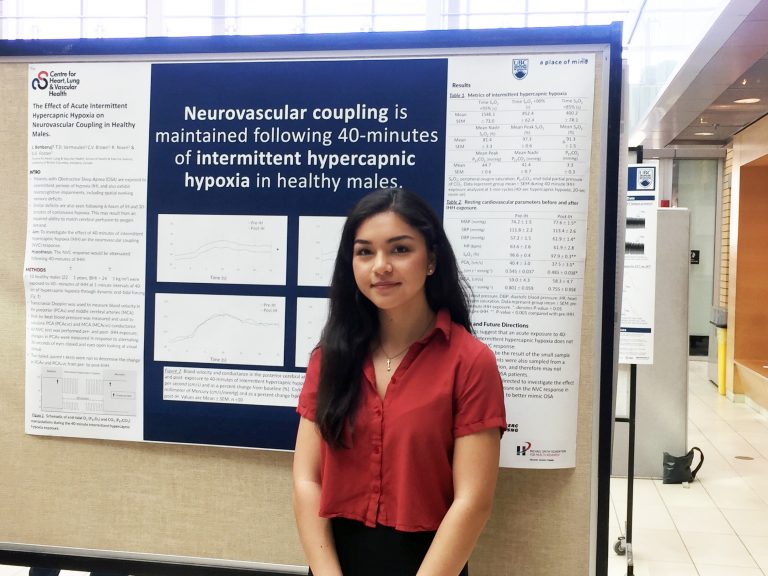 Having your research declined by research journals is a regular occurrence for academics. Peer-review subjects an author's scholarly work to the scrutiny of experts in the same field. With the aim to ensure academic scientific quality, academics regularly face rejection.  Yet, for alum Jenna Benbaruj, meeting the rigour of the academic review has become routine. During her undergraduate experience at UBC Okanagan, Benbaruj contributed to and received authorship on three peer-reviewed publications during her undergraduate experience.
A feat that her Honour's project supervisor Associate Professor, Dr. Glen Foster attributes to her enthusiasm for research. A passion which began when Benbaruj began working with Dr. Foster in the third year of her undergraduate degree in human kinetics.
"I was immediately drawn to Foster's innovative work in cardiovascular and exercise physiology," says Benbaruj who was thrilled when Foster accepted her into a research-based undergraduate course in his lab. A project that hooked Benbaruj on research.
"Participating in research sparked my curiosity and led me to pursue more independent learning, and I found myself researching on the side to help answer the questions I had," explained Benbaruj of the transition from course-based work to hands-on involvement with research for her Honours project.
"One of my favourite parts about research is being able to just sit down with other researchers and bounce ideas back and forth."
Benbaruj suggests that conversations with Dr. Foster and others in the lab created meaningful learning experiences that every undergraduate student should consider. Her advice is to take the first step by reaching out to a TA or professor.
"There are way more opportunities than you may realize," says Benbaruj who is now taking on her own new opportunity as a Master's student at UBC Vancouver.
While Benbaruj's enthusiasm for research will surely spur many publications in the coming years, she will always reflect on her first peer-review experiences under the guidance of Dr. Foster.
"The peer-review process can be a little daunting because they provide very thorough feedback, which can feel critical at times," says Benbaruj of the lessons the process provided.
Her advice is to thoughtfully consider every piece of feedback you receive, but be sure to stand up for your opinion when it counts.
For Benbaruj, at the start of her graduate degree she can count 3 publications on her record.